How to be a cool Cargo Bike Dad
By Yuba Bikes
25 May, 2020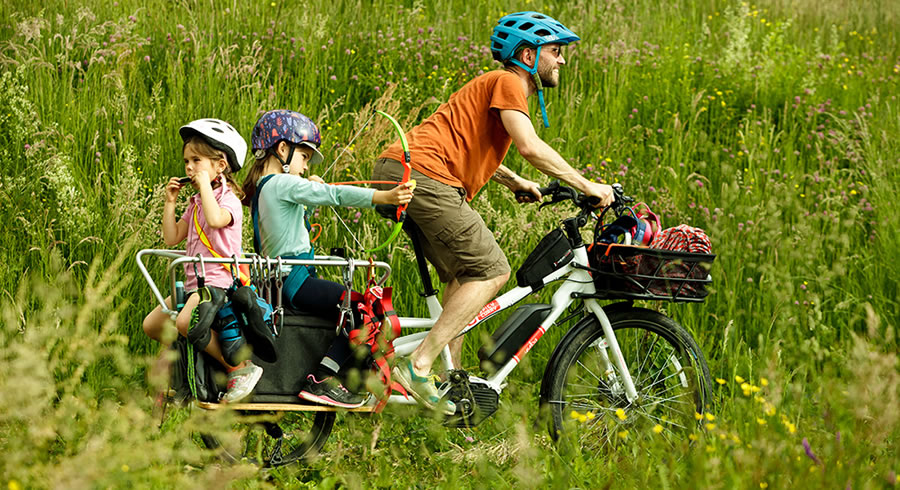 Be as cool as this Dad!
Dads don't exactly have a reputation for being cool, but we have just the ticket to becoming a Cool Cargo Bike Dad. Follow the step by step insturctions below to get started on your journey to coolness!
1. Hear from some Cool Cargo Bike Dads
Farewell, sweaty exhausting journeys. Hello, cruisin'! – Fatherly
The Yuba Mundo Transformed my Relationship with my Sons – Fatherly
This Father-Daughter Duo Had the Ultimate Bikepacking Adventure – Bicycling
2. Watch How To Be A Cool Cargo Bike Dad Series
Join us in watching the transformation of a regular Dad into a very Cool Cargo Bike Dad. From alpine skiing to country side picnics to just dumping recyclables, they take their electric Cargo Bike everywhere, use it for everything and they are never looking back!
In this 10-part series Damien of Planète.D takes us along on his journey with his two darling daughters as the family adopts the Cargo Bike Lifestyle.
Episodes are found below – Don't worry English speakers, there are subtitles…
3. Find the perfect Cargo Bike for your lifestyle with Yuba Bicycles!
Compare all Yuba Cargo Bikes – See each of our Cargo Bike model side by side.
Read through theFAQs – always informative, sometimes hilarious answers to lots of questions about Cargo Bikes
Ask a Cargo Bike Expert – Get expert advice on all things Cargo Bike
How To Be A Cool Cargo Bike Dad 10-Part Series:
Episode #1
In episode #1, piece by piece, Damien gets acquainted with the Spicy Curry Electric Cargo Bike. Let's see how it begins.
Episode #3
In episode #3 Damien stretches his legs, taking his Spicy Curry Bosch out for an alpine skiing adventure! Lets follow him up the mountain to the snow…
Episode #4
In episode #4 Damien's Spicy Curry Bosch saves the day when Sarah needs a ride to the train station. But, will they make it in time to catch Sarah's train… Watch to find out.
Episode #5
A father daughter(s) outing for rock climbing lessons. But, Dad, it's raining cats and dogs out there… In Episode 5 of "How To Be A Cool Cargo Bike Dad" see how a little rain can't slow down this Cargo Bike Dad and his adventurous little girls.
Episode #6
In episode 6 of How to be a Cool Cargo Bike Dad, Damien pairs a leisurely bike ride with fetching Sarah from the train station. Just a taste of the Cargo Bike Lifestyle!
Episode #7
In episode 7 Damien takes "multi modal transportation" to a whole new level to meet up with a friend on top of a mountain.
Episode #8
A little snow on the road won't stop this cool Cargo Bike Dad from giving a lecture. Join us for Episode 8 as the saga continues into the chill of a morning commute with some very precious cargo.
Episode #9
Damien and his little riders take a family bike ride through the beautiful French countryside in search of the perfect picnic spot!
Episode #10
Finally, the whole family rides the Spicy Curry together and it is magical! Watch the final episode of "How to be a Cool Cargo Bike Dad" now.